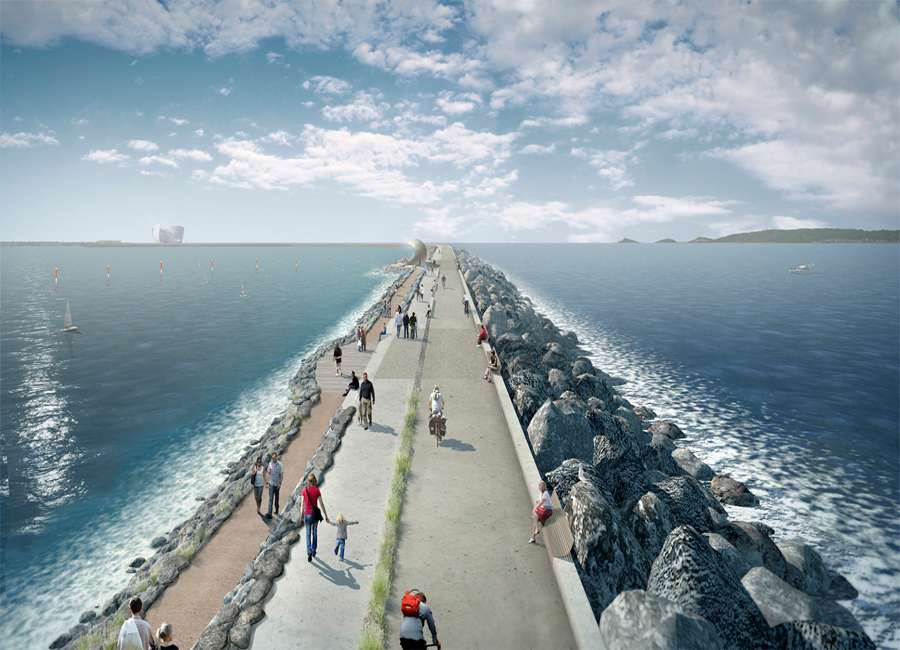 Recent News
With the recent rapid turn of events regarding tidal lagoons in the Severn Estuary, does this finally spell the end for the Severn Barrage?
Lagoon plans need to be considered together urges head of Natural Resources Wales Emyr Roberts (Wales Online, 13th June 2015)
Swansea Bay tidal lagoon power price questioned (BBC News, 25th June 2015)
Swansea Bay tidal lagoon: doubts cast on engineering contract with China (The Guardian, 15th June 2015)
7 fascinating facts about the tidal lagoon planned for Swansea Bay (South Wales Evening Post, 11th June 2015)
£1bn Swansea Bay tidal lagoon 'game changer' hope (BBC News, 10th June 2015)
Swansea Bay tidal lagoon – all you need to know about it, from how it will look to how much it will cost (Wales Online, 10th June 2015)
Swansea Bay's £1bn tidal lagoon given go-ahead (BBC News, 9th June 2015)
Swansea Bay tidal energy scheme wins planning permission (The Guardian, 9th June 2015)
Swansea Bay tidal power plant approved by DECC (Edie.net, 9th June 2015)
Tidal Lagoon Swansea Bay given development consent (GOV.UK, 9th June 2015)
UK To Get Underwater Power Station (Sky News, 9th June 2015)
Make or break week for Swansea Bay tidal lagoon as developers wait to hear if Energy Secretary will give consent (Wales Online, 9th June 2015)
Insane, crazy – the riddle of the sands in Swansea (The Telegraph, 7th June 2015)
200 gather to hear about Minehead tidal lagoon plans (Somerset County Gazette, 6th June 2015)
£300m deal for Swansea Bay tidal lagoon wall (BBC News, 3rd June 2015)
World's first tidal-lagoon clean energy scheme prompts environmental row (Edie.net, 1st June 2015)
Websites, Conferences and Press Releases
Background to Tidal Power on the Severn Estuary
In July 2008 the Government published a list of ten possible schemes, including barrages, onshore and offshore lagoons, a tidal fence and a tidal reef. They then assessed, in high level terms, the costs, benefits and impact of potential schemes and how they might affect the environment and the region. Following this process Ministers recommended the following schemes for detailed analysis:
Shoots Barrage – located near the Severn road crossings, estimated to cost £3.2bn to construct and generate 2.7TWh/year or just under 1% of UK electricity

Beachley Barrage – slightly smaller and further upstream than the Shoots Barrage (and upstream of the Wye), estimated to cost £2.3bn and generate 1.6TWh/year

Fleming Lagoon – an impoundment on the Welsh shore of the Estuary between Newport and the Severn road crossings, estimated to cost £4bn and generate 2.3TWh/year

Bridgwater Bay Lagoon – an impoundment on the English shore of the Estuary between Hinkley Point and Weston Super Mare, estimated to cost £3.8bn and generate 2.6TWh/year

Cardiff-Weston Barrage – located between Brean Down and Lavernock Point, estimated to cost £20.9bn and generate 16.8TWh/year or some 4.4% of UK electricity.
| | |
| --- | --- |
| New Scientist Map of short list | Original long list of options |
| | |
The five projects selected were those that the government's engineering consultants, Parsons Brinckerhoff, deemed to be based on the most proven technology. Proposals for tidal reefs and tidal fences were not included. The former would involve a series of slow-moving, fish-friendly turbines over a purpose-built causeway in the estuary while the latter would involve building only a partial barrier between Cardiff and Weston-Super-Mare. Both these proposals are acknowledged as having minimal impact on the local environment.
There were allegations that Parsons Brinckerhoff miscalculated the costs of a tidal lagoon project championed by Friends of the Earth. The report sent by the consultants to ministers stating the tidal lagoon option would be eight times more expensive than the barrage scheme and would not generate as much power, claims denied by the designers. David Elliott, of the energy and environment research unit at the Open University, also stated that a single big barrage would be problematic in terms of harnessing energy since it would only provide two short bursts of power every day. He considered that several smaller tidal turbines around the coast, operating at different times, would be a better solution. Likewise the RSPB was disappointed that the Cardiff-Weston barrage option was on the short list, considering that the final scheme must be the one that generates as much clean energy as possible, while minimising harm to the estuary and its wildlife. They considered that the barrage would destroy huge areas of estuary marsh and mudflats used by 69,000 birds each winter and block the migration routes of countless fish.
The Partial Impact Assessment of Severn Tidal Power prepared for the Department of Energy and Climate Change compares the five projects against the "do nothing" option, which was considered to be the generation of electricity from Combined Cycle Gas Turbines and other options for meeting renewable energy and GHG targets. It also stated that there may be a regional economic cost to ports and to local fishing, additional environmental costs from the loss/damage of habitats and species, reduced 'ecosystem services' including negative effects on biodiversity and harm to fish stocks.
Because of these issues and others, the Sustainable Development Commission, the UK Government's independent watchdog on sustainable development, set out three 'sustainability tests' which a Severn tidal power scheme should pass:
It must be publicly led as a project and publicly owned as an asset, in order to avoid short-termist decisions and ensure the long-term public interest

It must go ahead in full compliance with EU Habitats and Birds Directives, which will require assessment of mitigation and compensation on a scale as yet unseen in Europe

Any tidal power scheme must not divert Government attention away from much wider action on climate change
The Severn Tidal Power Consultation phase closed on the 23rd of April 2009. For information on the second phase of the study, please visit the Department of Energy and Climate Change's Severn Tidal Power Feasibility page, or the Welsh Assembly Government's Severn Tidal Power page.
Note: It is not the intention of the Severn Estuary Partnership to take any position regarding the debate about tidal power in the estuary, merely to provide a resource on the subject. About us. The different groups on the estuary and their various websites are easily viewed from the Severn Estuary Gateway.