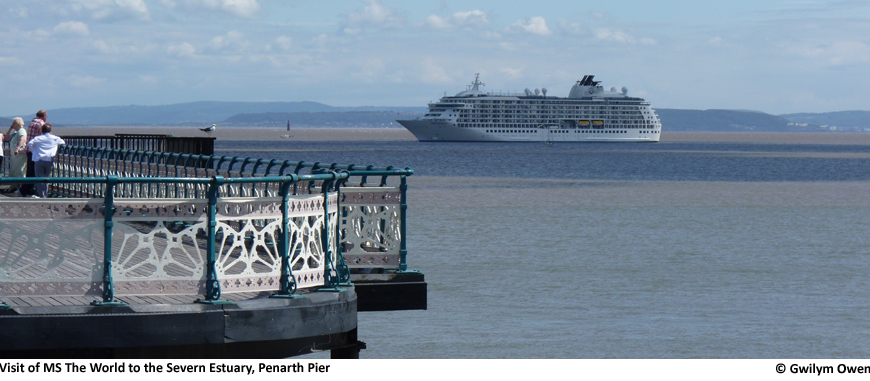 Tourism & Recreation
Tourism contributes 9% to the UK's GDP and is one of the largest service industries around the Estuary. In 2013 it was estimated to be worth £127 billion to the UK economy (including direct and indirect impacts).
Coastal tourism is continuing to increase around the Estuary. MORE
Energy Generation
From coal to tidal power, the energy-producing possibilities of the Severn Estuary area have long been a focus of interest. Many of the conditions which contributed to this interest in the past are still present whilst other factors have emerged and evolved to keep pace with technological developments. These have occurred both within the more traditional energy generating industry and with the introduction of new fuel types. As a result of the Estuary area having a wealth of favourable conditions, it continues to play a major role in the provision of UK energy generation, not only in terms of generating capacity, but also in the variety of generating plants and fuel types. MORE
Fisheries
With such a vast tidal range, high turbidity, strong tidal currents and extensive mud banks, fishing for one's livelihood on the Severn Estuary has always been demanding. The Estuary's many fisheries evolved to meet these demands, by adopting a variety of fishing methods; some of which are unique to the Estuary.
Historically, most of the fisheries in the area have targeted migratory species, but there has also been a long tradition of catching marine fish and shrimp.
The term fishery (or fisheries) is taken here to be the industry or occupation devoted to the catching and/or selling of fish or other aquatic animals (such as shrimp) and also to the place where they are caught – on a commercial basis. MORE
Maintenance Dredging
Maintenance dredging or navigational dredging is the ongoing or periodic removal of recently deposited material to maintain safe navigable depths of water for shipping.
The majority of ports have to regularly dredge their approach channels, dock basins and locks. Indeed, many ports have a statutory duty to clear and prevent the build-up of sediments in channels and waterways within their respective harbour area. The frequency of dredging can vary considerably between dredge sites, as may the type of material and the removal techniques employed. MORE
Marine Aggregates
Marine aggregate is sand or gravel, used principally as a raw material by the construction industry. In the UK, the majority of aggregate (including crushed rock) comes from land-based sources but since the 1960s, developers have been increasingly reliant on marine sources to supplement demand and meet construction needs. MORE
Transport
The Severn Estuary has an important intermodal transport network bordering its shores. This network has been influenced by the geography and topography of the region and it reflects both the historic and economic developments and requirements of the Estuary over the years.
One of Wales' main national road and rail network routes runs parallel to the south coast acting as a corridor; joining Wales with Ireland, England and the rest of Europe. The network of roads, railways and ports was initially developed to serve the industrial needs of the South Wales Valleys in the 18th and 19th centuries. Today the road and rail transport networks around the Severn Estuary link the Welsh valleys to the city centres and port areas of Newport, Cardiff and Swansea, whilst in England they follow the main tourism, industry and conurbation districts of Weston-super-Mare, Avonmouth and Bristol. MORE
Ports & Shipping
Almost all the major towns and cities around the Severn Estuary developed largely as a result of sea trade which brought prosperity and employment to the region. In the 19th and 20th centuries many established in-river and coastal wharves were replaced with impounded docks more suited to deal with the expansion of trade, larger vessels and the high tidal range. At some, such as Lydney, Gloucester, Bristol City, Portishead and Penarth Docks, trade has long ceased and they now mainly operate to service the recreation sector, as marinas. Others however, still provide a vital conduit for sea trade. These ports and the services they support continue to have an important role in the local, regional and national economy as they are responsible for handling a substantial proportion of UK trade. The major commercial ports are Bristol (Royal Portbury and Avonmouth Docks), Cardiff, Newport with smaller operations at Sharpness, Barry and Bridgwater (Dumball Wharf). MORE