Celebrating Ten Years!
Tuesday 29th September 2015
Arnolfini Gallery, Bristol
The Severn Estuary Partnership is pleased to announce that the 2015 10th Annual Severn Estuary Forum was an outstanding success.

This engaging event is intended for all those who are interested in learning about the latest research and policy developments involving the Severn Estuary and its future, and guarantees a lively and informative day of presentations and talks.
The line-up for this year's forum allowed for a fascinating day of informative and engaging presentations based around the following themes:
The Q & A sessions were very engaging and there was plenty of opportunity for networking. The successful day was rounded off by an informative cruise of Bristol's floating harbour in gloriously sunny weather.
The event was supported by CIWEM (The Chartered Institution of Water and Environmental Management) and RTPI (Royal Town Planning Institute) and was a Continuing Professional Development event for members of both of these professional bodies.
SEP would also like to take this opportunity to thank Cardiff University, The Bristol Port Company, and British Marine Aggregate Producers Association (BMAPA) for their sponsorship of our event.
For further information on the forum, a conference report will be published soon.

Photos of the Severn Estuary Forum 2015
Severn Estuary Forum 2015 PowerPoint Presentations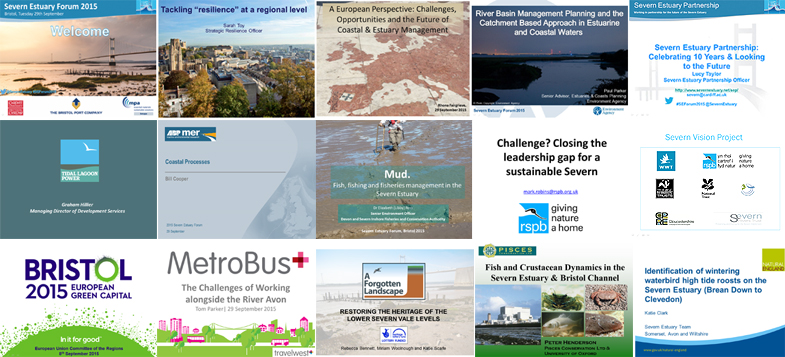 Severn Estuary Forum Programme Presentation Slides 

Tackling Resilience at a Strategic Level (Bristol City Council) 

The Severn Estuary Partnership: A Retrospective View & Future Challenge
Our Estuary Resources
Local Hot Topics
Speakers' Biographies 

For further information please contact the Severn Estuary Partnership office
The Severn Estuary Partnership
Tel: 029 2087 4713
Email: Severn@cardiff.ac.uk
We look forward to seeing you at the 2016 Forum next year in Gloucester!
For further details on what happened at the previous year's forum, photos of the event and copies of the presentations – follow this link: Severn Estuary Forum 2014