Stroll along the banks of the river at Newnham-on-Severn and enjoy the tranquil setting. Using the telescope, watch a variety of birds feeding on the mudflats from afar. It's also a popular spot to view the famous Severn Bore – one of Britain's greatest natural phenomena. The Severn Bore is a large surge wave created by the rising tide that travels upstream, at speeds of up to 13mph! You can often see surfers and kayakers catching the bore, some travelling great distances. The height of the bore increases upstream – travelling further towards Minsterworth is worthwhile. Visit our website for more information and links to the bore timetable.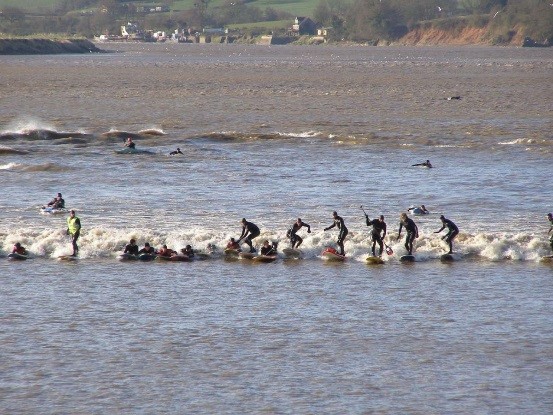 Newnham-on-Severn ac Eger Hafren
Ewch am dro ar hyd glannau'r afon yn Newnham-on-Severn i fwynhau eiliad o heddwch. Defnyddiwch y telesgop i wylio amrywiaeth o adar yn bwydo ar y traethellau. Mae hefyd yn fan poblogaidd i wylio'r enwog Eger Hafren – un o ryfeddodau naturiol enwocaf Prydain. Mae'r eger yn don ymchwydd fawr sy'n cael ei chreu gan daith y llanw i fyny'r afon hyd at 13 milltir yr awr! Yn aml fe welwch syrffwyr a chaiacwyr yn dal yr eger, gyda rhai'n teithio pellteroedd maith! Mae'r eger yn tyfu wrth iddo deithio i fyny'r afon, felly teithiwch tua i'w weld ar ei orau. Ewch i'n gwefan i gael rhagor o wybodaeth a dolenni i amserlen yr eger.