A REVIEW OF TERRESTRIAL PLANNING POLICIES 2015/16
A project undertaken by the Severn Estuary Partnership/Cardiff University for WWF
This study provides a baseline of planning policy relevant to the Welsh National Marine Plan (WNMP) within development plans, Shoreline Management Plans, River Basin Management Plans and selected conservation plans.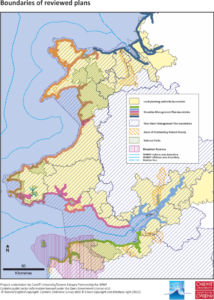 A simple content analysis identified coastal/marine policies relating to the UK Government and Devolved Administrations' High Level Marine Objectives (Achieving a Sustainable Marine Economy; Ensuring a Strong, Healthy and Just Society; Living within Environmental Limits; Promoting Good Governance; Using Sound Science Responsibly) and related themes.  After a desk-top review, validation of key findings was undertaken with relevant planning officers.
The review revealed many policies relevant to the WNMP.  The variety of approaches reflects the geographical remit of plans as well as formal planning guidance from Government at the time of plan preparation.
Many plans include specific 'coastal' policies stipulating conditions or restrictions for new development. Few explicitly define a coastal zone. Most refer to the specific characteristics of coastal areas in supporting text and some refer to the importance of the coast in their vision statements.
Many plans contain policies relating to specific marine economic sectors with much focus on coastal tourism. Where plans have a marine or coastal sectoral policy, these generally promote, rather than deter the sector.
Aspects of safety, water quality and litter are scarce, with most policies concerning biodiversity and nature conservation. Consideration of water quality, safety and litter generally relate to beaches.
High regard is given to aspects of Flood and Coastal Erosion Risk Management. Whilst few plans include reference to Shoreline Management Plans in the supporting text, the recent increase in such references is noticeable.
There is scarce reference to Integrated Coastal Zone Management, Coastal Partnerships and other coastal networks, including Coastal Groups (coastal defence/shoreline management groups) and Natura 2000 Relevant Authority groupings in supporting text. There is less reference to marine planning, although a few draft plans include brief consideration in supporting text.
For the summary report, click here.
For the full report, or if you would like further information, please contact SEP at Severn@cardiff.ac.uk.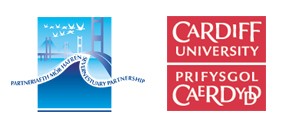 WORKSHOP – WALES AND ENGLAND CROSS-BORDER MARINE PLANNING – WELSH GOVERNMENT & MARINE MANAGEMENT ORGANISATION

SEP hosted a workshop for the Welsh Government and Marine Management Organisation on 15th March 2016 in Cardiff. The workshop aimed to discuss the approach to cross-border issues to inform marine planning compatibility and integration. It was a fantastic event that stimulated thought-provoking discussion on cross-border approaches to marine planning.
The workshop sessions focused on: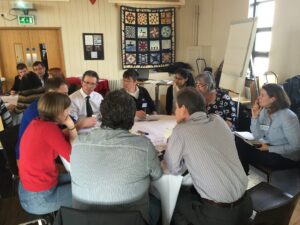 identifying common issues and associated evidence;
understanding the relationship with other relevant plans in cross-border areas;
development of responses to cross-border issues that promote compatibility and integration;
exploration of the role of partnership working and liaison to facilitate approaches to cross-border marine planning;
lessons learned from planning and management initiatives in the Severn Estuary that could inform cross-border planning elsewhere
The challenge now lies in building on this event, maintaining momentum and developing tangible solutions to the issues identified.
The report from the event is now publicly available here. If you would like to hear more, please get in touch with SEP at Severn@cardiff.ac.uk.
WALES COASTAL DIRECTORY: REVIEW AND UPDATE
A project by the Severn Estuary Partnership/Cardiff University with the Pembrokeshire Coastal Forum for Marine and Fisheries Division, Welsh Government
This project provides annual reviews and updates of the Wales Coastal Directory (WCD) and associated map. It is also providing data for Welsh Government's Marine Planning Portal and for helping inform Welsh Government's consultation on marine planning and related policy. The project map is also assisting SEP identify new networks and groups relevant to the Estuary and the development of the new Severn Estuary Strategy.