Severn Estuary Climate Change Research Advisory Group (SECCRAG)
SECCRAG was established as part of the INTERREG IIIB COREPOINT project to provide a science input with a wider regional base, drawing in scientists and policy makers with an interest in the Severn region. The function continued to develop under the aegis of the INTERREG IVB IMCORE project. For both projects the emphasis remained on climate change.
SECCRAG Meeting Reports: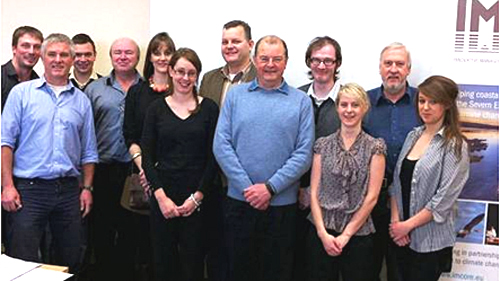 Severn Estuary Climate Change Citations Database
This database was developed over several years as part of the INTERREG IIIB COREPOINT and INTERREG IVB IMCORE projects by Cardiff University. The database holds information (as of 2010) on relevant research including just over 1000 citations to journal articles, academic research papers, public reports and guidance documents related to the Severn Estuary and climate change in general. The database covers a wide range of research topics including aspects relating to storm surges, hydrography, wave climate and sediment distribution.
Severn Estuary Climate Change Citations Database