A critical review and analysis of Beachwatch data for the Severn Estuary
Published 20th October 2023
By Amy Foster, studying Marine Geography at Cardiff University
Over the summer I have been lucky enough to undertake a research internship alongside SEP and Cardiff University, analysing litter levels on beaches surrounding the Severn Estuary using data from the Marine Conservation Society.
346,804 pieces of litter were cleared from beaches surrounding the Severn Estuary from 2010 to 2020, which poses a large threat to the estuary's ecosystem. Plastic was the most common type of litter recorded and 52% of litter was labelled as 'non-sourced' (no identifiable source), making future intervention/management difficult. Certain beaches also showed unique pollution issues. For instance, Chesil Beach in Portishead was heavily polluted with glass. A staggering 40,462 pieces were cleared over a mere 4 years.
The experience has been invaluable in developing skills that are vital for my degree and future career. I have thoroughly enjoyed it, and would absolutely recommend a summer placement with SEP.
The map below shows the spread of litter on average across the surveyed beaches, and provides some further information about the litter sources on beaches with the highest quantities of marine litter.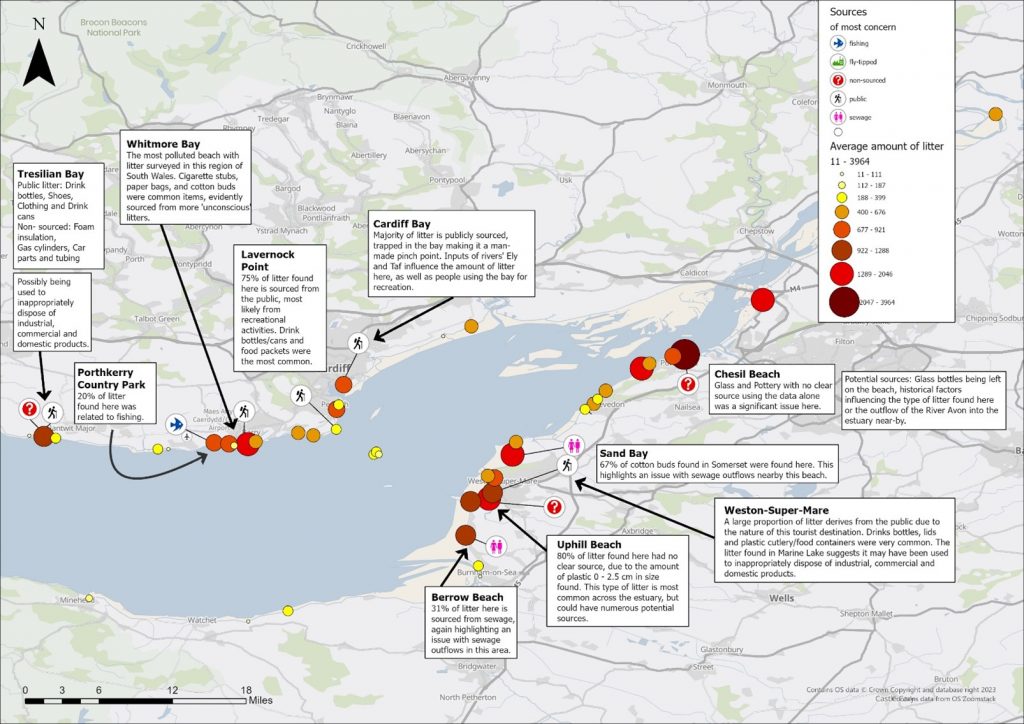 If you would like more information about this study, or would like to read the full report, please get in touch via severn@cardiff.ac.uk. If you are interested in a placement opportunity with SEP, please get in touch.
---