Energy Generation
The Severn Estuary has been a hotspot for many schemes and proposals designed to meet the energy needs of the UK. From traditional energy generation to renewables and new cutting-edge technologies, the Severn Estuary provides many benefits for energy generation. Most of the energy generated in the Estuary comes from large power stations which supply electricity for the national grid. There are also smaller installations, which provide electricity for smaller industrial sites such as the Dow Corning silicone manufacturing plant in Barry and the Avonmouth Docks within the Port of Bristol. Some industrial processes require both hot water and electricity. In this case, combined heat and power plants provide the water and electricity – for example, the Dow Corning plant.
Advances in technology has led to the development of more renewable energy sources. Renewable energy is the production of electricity without using fossil fuels. Instead, natural processes such as winds, tides and sunlight are used, which effectively provide energy without running out. Traditional fossil fuel sources, including coal, gas, and oil, will one day run out. Therefore, it's important to ensure we have enough clean energy from renewable sources.
Why is the Severn Estuary chosen for energy generation?
Plentiful supply of cooling water – a major consideration for fossil fuel and nuclear power stations
Availability of disused industrial land (brown-field sites), which can be used for new developments
Abundant connections to the National Grid system
Natural processes – large tidal range of the Estuary and strong winds
Large population –brings a high demand for power which needs to be met
Transport infrastructure including sea access
Abundant gas networks and connections
Skilled labour is readily available, with plenty of cities and towns nearby
Fossil fuel power stations
In recent years, coal-fired power stations have been closed in favour of gas and more sustainable energy methods. The Aberthaw coal-fired power station, near Barry, closed in early 2020. While it has only functioned intermittently in recent years, it proved invaluable during the winter storm 'Beast from the East' in 2018, providing much needed extra power to the grid1.
The Seabank power station, located in Hallen Marsh Bristol, is an example of a gas-fired power plant still in use within the Estuary today. The station has two modules, Seabank 1 and Seabank 2, which produce 755 megawatts and 385 megawatts of power respectively2.
Some power stations which used to process coal are now being converted to turn waste products into energy. The Uskmouth power station provided energy for 360,000 homes before decommissioning in 20143. Originally, the station had three English Electric generating sets, producing a total of 363 megawatts of energy3. To meet the UK's energy needs, plans have been set to convert the station to burn non-recyclable waste. This includes waste that would otherwise be sent to landfill and the converted power station is predicted to consume 900,000 tonnes of waste pellets annually4. The use of waste streams for energy production is a sustainable method of producing energy and tackling plastic waste.
Nuclear power stations
Hinkley Point A nuclear power station, built between 1957 and 1965, ceased operations in 20005. At the time of its opening, it was one of three Magnox power stations near the River Severn (along with Oldbury and Berkeley). It was superseded by Hinkley Point B in 1976, which was the first commercial Advanced Gas Cooled Reactor in the UK6. Hinkley Point B has produced over 300 TWh of power since its opening, enough to power each home in the UK for 3 years6! The power station is soon entering its decommissioning phase, expected to commence in July 20226. The station will be defueled and shut down.
The decommissioned Hinkley Points A and B will be replaced by the Hinkley Point C. Hinkley Point C, currently still in its building phase, consists of two nuclear reactors which will provide a predicted six million homes with electricity7. The power station will help meet the UK's emission targets of the future and is predicted to offset 9 million tonnes of carbon dioxide (greenhouse gas) per year7.
Renewable energy
Wind turbines
At Avonmouth Docks, four wind turbines generate 20.9 gigawatt hours of energy annually – equivalent to powering 5232 homes8. The coastal location in the Estuary provides strong winds and good transport links for construction and operation. Similar conditions make the Alexandra Docks at Newport another site perfect for wind turbines. The primarily industrial area was converted to hold two wind turbines along with a switch room and sub-station9. The reuse of old industrial sites (known as brownfield sites) along the Estuary for wind turbines means more of the countryside can be left untouched.
Energy from waste: Bio-gas (methane) and compost
At the Bristol Sewage Treatment Works in Avonmouth, biomethane is produced by anaerobic digestion, which can be used as a substitute for natural gas. Anaerobic digestion is where microorganisms break down biodegradable material, such as sewage sludge, in the absence of oxygen10. The sewage treatment plant at Bristol produces 56,000 m3 of biogas daily and can be used to power homes and converted vehicles10. Within Cardiff, Welsh Water operates Cardiff East Waste Water Treatment works and a garden waste site on Lamby Way. These sites produce biogas and compost respectively11. The same process of anaerobic digestion is used here – energy produced with the help of microorganisms! The energy produced from this biogas is used to power the main waste treatment works in Cardiff11.
Marine renewable energy
The unique shape of the Bristol Channel and Severn Estuary act as a natural funnel, channelling water up the coast inland. This creates one of the largest tidal ranges in Europe, ranging from 7 meters in the outer reaches to 14 meters at Avonmouth12. This shifting of the tides has the potential to generate huge amounts of energy, and indeed, these options have been thoroughly explored for the Estuary. Proposed schemes have included the Cardiff-Weston Barrage, the Swansea Bay Tidal Lagoon, and the Bridgewater Bay Lagoon. These barrages act to dam sections of water, which flow into and out of the lagoons via underwater turbines. The force of the water moving through the turbines generates electricity, which reliably occurs with the ebb and flow of the tide. After extensive assessment, these proposals were abandoned due to their cost and potential impact on marine life. Assessments like this, termed Environmental Impact Assessment (EIA)13 play a role in ensuring that developments can minimise their impact on ecosystems as much as possible.
The Swansea Lagoon project, which had previously been dropped, is undergoing a new rise in interest. Adaptations to the scheme are being discussed at the Welsh Government, including a more cost-effective dragon-shaped 'floating island'14. This would include 10,000 homes and shops whilst generating energy from the tides and solar panels.
---
References
Explore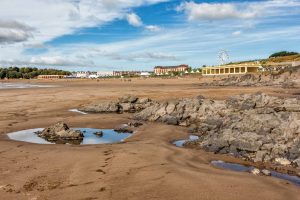 The Severn Estuary is one of the largest estuaries in Britain and has the second highest tidal range in the world.